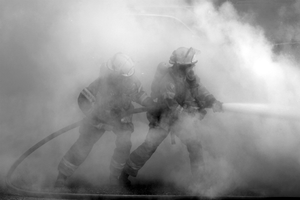 Built for Firefighters, By Firefighters
We are a first responder family dedicated to reducing the unnecessary risks firefighters take while they serve the community they love. We believe in taking a detailed look at the current equipment used in the fire service, and through cutting-edge science and research partnerships, better identify what adaptive changes we need to make as an industry to ultimately help firefighters live long into a healthy retirement.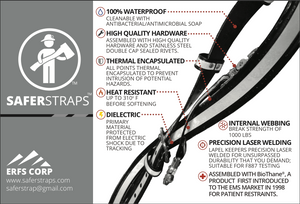 The Safer Strap™ Solution
It's time to ask the question: Are you wearing a fully sealed radio strap solution that can truly and thoroughly be decontaminated with confidence?
Take the next step and remove the danger posed by highly absorbent leather and uncoated nylon.
shop Now
Custom Options
We offer custom engraving options for you upon selecting your choice of product. We can engrave most orders with either "classic" or "blackout" engraving options. What better way to personalize your new Firefighter Radio Strap or Firefighter Radio bucket strap than with your department, name or custom nickname.
Customize Your Radio Strap Now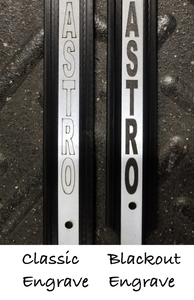 Bulk Orders
For Fire Department, municipalities and anyone looking to place a bulk order of 10 or more units, we have partnered with Ten-8!
Contact Them Today
What Others Are Saying About Safer Straps
- Scott Gardiner District Chief Brevard County FL Fire Rescue
My department recently got rid of all of our leather radio straps and switched to the safer strap. We couldn't be happier with the quality of the product. We are taking steps to reduce the cancer risks to our employees and this is a great step towards that goal. The service and support form the Safer Strap company has been outstanding. Dustin & Lynn have been a pleasure to work with. We will also be switching all of our uniform belts to Safer strap belts and are looking forward to it.
The functionality of the Safer Strap rival's other competitors, but what separates them from other radio straps is its non-absorbent material used in construction. This makes decontaminating and cleaning a simple process, and more importantly, this eliminates exposure to harmful carcinogens from the strap itself with direct skin contact. The Safer Strap is a great example of a product that has been redesigned with firefighter health as the priority.
- Assistant Chief Rick Hartzog Lakeland Fire Department
- Jeremy Hurd. EMS Captain PBCFR
"After purchasing my radio strap, I found out just how much cleaner it was when I put it on. After every use, I am able to quickly clean it without having to put it out of service or use a back up strap. It also holds up under extreme conditions with no issues. I think every firefighter should use this strap so they can keep contaminants off their clothes and body."